Custom Services and Restoration LLC.
Water Damage Repair

Are you suffering from
water-flood damages
in your home? Our family owned and operated business has a licensed and insured team that is ready to help. We're proud to offer the community of Manhattan, Kansas with an excellent resource in water damage services.
After providing extensive help for over three decades, our team is confident in executing the most outstanding work when it comes to your precious home. Using the highest-quality tools and equipment, we provide quick water damage cleanup so that you can avoid extensive damages.
If your home is suffering from a pipe-burst, flood or any other type of water-related distress, we've got your back! An essential part of our damage repair process is water extraction. Water extraction is the most crucial step in the water restoration process. This process allows us to stop extensive damages like drywall saturation, carpet damage, warped hardwood floors, and even electrical issues.
Water Extraction and Flood Damage
Remediation in Manhattan, Kansas  
It's vital that you reach out for immediate help after an H2O related incident.
Water damage mold
can manifest quickly, and it can also cause some serious health issues.
Are you curious to know how to repair water damage ceilings? Our team of contractors at Custom Services and Restoration LLC. are more than qualified to perform these tasks, so you don't have to!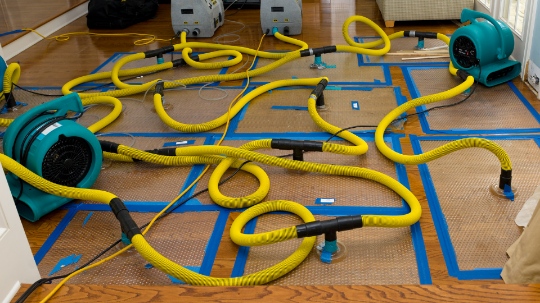 If you live in Manhattan, Kansas and need immediate water damage remediation,
contact us today
. Our water damage restoration company is available 24-hours a day to help!
Hours
Emergency Services Available 24/7
© 2018 All rights reserved.